It has been around 5 years since SecurityXploded is sharing its security research work through its research articles, tools and trainings. Initially founded by Nagreshwar Talekar and then I along with other like minded friends formed a community around it.
The main aim of the community was to support the society through its knowledge sharing program. We started couple of notable initiatives like free "Reverse engg. and Malware Analysis" Training which is well appreciated by people. But if I track back from very beginning to this position then it is the people and their support which has motivated us to work on these initiatives and research. Believe me, it gives a great satisfaction when someone unknown to you say thanks for what you love to do.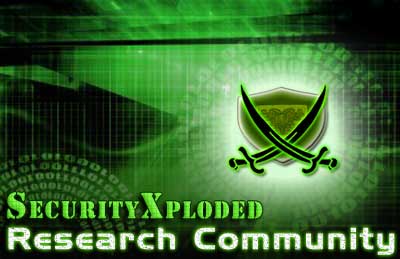 Our goal from the very beginning was to create an environment where like minded people can discuss and share their research work and help the beginners so that they can become good researchers. Another important thing is the quality of education especially on security research is very poor and we believe that if we can't change the system then at least we can help the good students. So keeping the same spirit we are announcing our two new initiatives.
1) Research community
2) Mentorship Programme


# Research Community:
We are in the process of building a research community where professionals and security experts around the world can join us and share their work on a global platform supported by SecurityXploded.
Some of the common tasks of the community will be
Working together on new open source Security Research projects

Sharing Research posts, articles, tools

Delivering guest lectures at leading Institutes/Universities

Mentor students from different universities

Research Discussion among fellow members

Presenting Research Work at the International Conferences
So if you are a security researcher and have passion to work for community then feel free to join us, we are open for every great mind.
# Mentorship programme:
We are starting this program in which we will select top 3 students every year through our interview process and train them on security research topics. This is going to be a serious training program and the students itself will be selected through a hardcore interview process.

The application form will be available from May 1, 2012.
We are making a dedicated webpage for this program so for additional details please wait for upcoming announcements.
About SecurityXploded
SecurityXploded is a popular Infosec Research portal offering more than 80 FREE Security & Password Recovery Tools, latest Research Articles and FREE Training on Reversing/Malware Analysis. It is operated by independent group of researchers from various organizations. The group work on various research and innovation driven security projects while helping the society at a global level.
Founded around 5 years ago, it has grown to become one of the unique and inspiring security portals on the net through its knowledge sharing work.
— Amit Malik