It was summer in 2007 and desire within me was going stronger day by day to Share my work in security field in much greater way. It took me a while to make up a decision and finally I launched SecurityXploded on 17th Apr 2007, on my 25th birthday. Both the name & date was guided by the destiny, I discovered it a year later when I learnt astrology.


Initially it was hosted with few of network & password recovery tools and research articles. In fact that time, SecurityXploded was the first one to release Password tools (FirePassword & FireMaster) for Firefox.


It has been hard journey to keep it up for all these years while performing full time job. Finally in winter of 2010, I decided to go full time on it as my job was becoming blocker to my dreams. Since then it has grown exponentially with dedicated focus and greater contributions from like minded friends.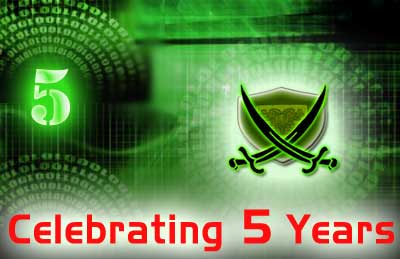 Now at the completion of 5 years, it makes me feel immensely proud and gives greater satisfaction that it has served its purpose by serving thousands of individuals across the boundaries.


Here is brief overview of where it stands today,
Touches lives of more than 150,000 individuals every month.

Published 70+ unique Research Articles in Reverse Engineering, Malware Analysis, Web Security, Pen Testing etc.

Released 80+ FREE Security Tools and Top 10 tools have crossed 100,000 downloads.

Most of our softwares are Published and Awarded by leading Download Sites like SoftPedia, BrotherSoft, CNet Download etc.

Our softwares are used not only by thousands of individuals daily but also by Corporate/Government agencies in USA and other parts of world.

Conducts FREE Training course on 'Reversing & Malware Analysis' by Expert Trainers.


Today as we celebrate 5 years in our 'Knowledge Sharing' work, we are excited to Launch our Two New Initiatives,
These initiatives will not only help aspiring students but also community through collaborative research work.


At this point, I would like to thank Amit Malik who has done instrumental work since last year by conducting Local Meets, RE Training & now Mentorship programme. This journey would not have been possible without greater participation by our Expert Trainers and like minded Contributors.


Last but not least, we would like to extend our gratitude towards all our fans and critics who kept us strong during tough times.
Keeping up the same spirits, we hope to take our 'Knowledge Sharing' work to even greater heights in the coming days yet keeping it FREE for mankind!