Chrome Password Decryptor is the FREE tool to instantly recover website login passwords stored by Google Chrome.
.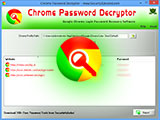 .
It presents both command line and GUI interface in one tool helping pen testers as well as forensic investigators. Also you can export the recovered passwords to HTML/XML/Text file.
.
New version v3.5 provides support for latest version of Chrome (v16.0.912.75), generates report in XML format for GUI as well as cmdline mode and cool interface with new banner.
.
For more details/download, visit Chrome Password Decryptor