Outlook Password Decryptor is the FREE tool to instantly recover lost password from all versions of Outlook.
.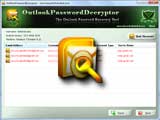 .
It can recover passwords from different type of Outlook configurations such as Exchange Server, IMAP, POP3, SMTP, LDAP, HTTP etc. It also supports password recovery from all versions of Outlook, starting with Express Edition to latest version, Outlook 2010.
.
Current version v2.0 supports report generation in XML format in addition to existing HTML/Text modes. It also presents improved GUI interface with better reports.
.
For more details/download, visit Outlook Password Decryptor