Here comes the first session of our much awaited 'Reverse Engineering & Malware Analysis' Training program.
.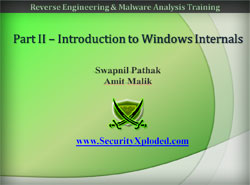 .
During last weekend, in our monthly local meet, Amit Malik and Swapnil Pathak delivered first session of this FREE training covering 3 parts
Part 1 – Lab Setup Guide

Part 2 – Introduction to Windows Internals

Part 3 – Windows PE File Format Basics
.
You can watch/download slides of all these parts from our Security Presentations page.
.
We have also put together reference section for the books/links/tools mentioned in these presentation. This will help you to easily and directly download the resources required for this course.
.
You may want to Join our Mailing List for better interaction with trainers or to keep a tab on our next session. And your suggestions will help us to make it better!