Google Password Decryptor is the FREE software to instantly recover stored Google account passwords by various Google applications as well as popular web browsers and messengers.
.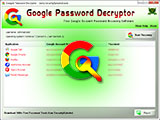 .
It can recover Google password from following applications
Google Talk

Google Picassa

Google Desktop Seach

Gmail Notifier

Firefox

Internet Explorer

Google Chrome

Opera Browser

Apple Safari

Flock Browser

Paltalk Messenger

Pidgin Messenger

Miranda Messenger
.
New version v3.5 helps you to generate report in XML format along with existing HTML/Text format. In GUI mode, you can click on 'Export' button and then select the 'XML file type' from the drop down box of File Dialog. In command line mode, just specify the output file with xml file extension. (ex: GooglePasswordDecryptor output.xml).  In addition to this, it also presents improved GUI interface with new banner.
.
Special thanks to Michael Cornwell for suggesting the XML output feature along with others and we are happy to roll it out in this release.
Now check out the new Google Password Decryptor