As 2011 comes to end, we have around 85+ FREE security softwares with 55 of them related to password recovery alone. Out of which six of them have already crossed 100,000 downloads with Facebook Password tool leading the pack with 600,000 downloads.
.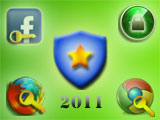 .
Here is the complete list of our top softwares of 2011 with their download numbers
Facebook Password Decryptor  [660,000+]

Google Password Decryptor [190,000+]

Fire Password Viewer [185,000+]

SX Password Suite [155,000+]

Chrome Password Decryptor [120,000+]

Spy DLL Remover [105,000+]
.
You can view the detailed statistics of all our softwares here.
.
At this closure moment of the year 2011, we would like to thank all our users for their awesome support and motivating us to do more every day !!!