Appnimi Password Unlocker is a All-in-one free tool to recover password of different type of protected files including ZIP, RAR, PDF, XLS, XLSX etc.
.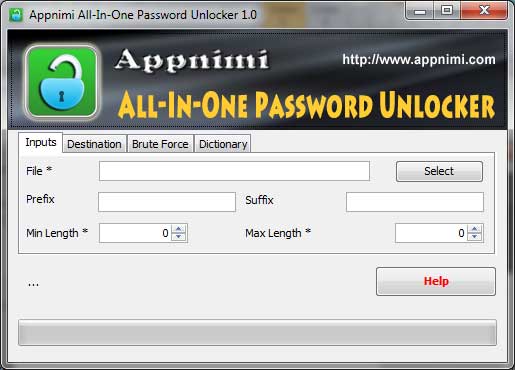 .
It supports both Dictionary and Brute-force password recovery techniques allowing user to recover easy as well as complex passwords.  For ZIP and RAR type, after recovering the password it will extract the files to a destination folder. For other types it will keep the unlocked version to the destination folder.
.
New version v2.0 adds the 'Multi Session Password Recovery' support which allows you to pause the password recovery operation anytime and continue later on. You can also save & load the existing configuration so that you don't have to enter it every time you launch the tool.
.
PasswordUnlocker is created by JavaAngleo – one of our top tool maker. You can click here to view all his work.
.
For more details, visit home page of  PasswordUnlocker