Securitybyte 2011 – India's largest 2nd Annual International Information Security Conference kick started today in Bangalore with the inauguration by His Excellency Shri, H R Bhardwaj – The Governor of Karnataka.
.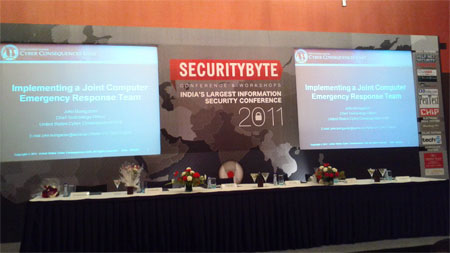 .
The four day event beginning today, witnessed participation from developers, CTOs and security professionals bringing together security thought leaders like Richard Marshall, Department of Homeland Security, Alexander, Edward Schwartz – VP and Divisional CISO, RSA, Hord Tipton – Executive Director, (ISC)2, Jay Bavisi – President & Co-Founder, EC-Council, Sridhar Jayanti – India Managing Director, McAfee Inc. and Shouvick Mukherjee – CEO India, Yahoo! to discuss and debate the security issues and solutions in India and worldwide.
.
Inaugurating the event, His Excellency Shri, H R Bhardwaj – Governor of Karnataka mentioned
In this ever shrinking world we cannot forget the significance of having a secure cyber space. I hope initiatives like this will help in creating awareness among the people and doing so will help us technologically advance in this era
.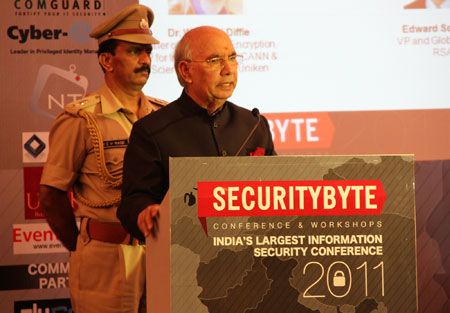 .

Speaking on the occasion, Dr. Whitfield Diffie, Father of Public Key Encryption, VP for Info. Security at ICANN & Scientific Advisor to Uniken said, "We are starting to live in an environment that is increasingly controlled by technology, in turn controlled by people. It is therefore very crucial that we have a thorough understanding of information security needs and possible threat areas"
.
Nishchal Bhalla, Founder Securitybyte added, bringing awareness to Indian developers, managers & decision makers alike by bringing intelligence experts and national speakers under the same roof to build more secured  environment. Securitybyte also provided a platform for students and professionals to partake in hacking competition to not only have their skills but also learn defensive mechanism
.
The conference comprising of 22 talks, 39 speakers, 10 trainings and 2 panel discussions will see sharing of a wealth of knowledge and experiences by eminent cyber security experts like, Bryan K. Fite, British Telecom, John Bumgarner, US Cyber Consequence Unit, Alexander Polyakov, CTO ERPScan, John McColl, Security Assessment, New Zealand Bishan Singh, Yahoo! India and Aseem Jakhar to name a few. Issues ranging from security threats on social networks to infrastructural needs to hacking corporate telephony will be discussed by these security experts.
.
Speaker talks were running on 3 parallel tracks and we had hard time figuring out which one to attend. We started with talk on HTML5 Security by Kotowicz. He explained all around clickjacking, iFrame sandbox along with impressive  demo on uploading image to flickr using CSRF. He also showed some hot stuff (hot girl :)) and that made it housefull 🙂 We also hit upon other good technical talks such as Botnet Application Layer by Raj Shastrakar,  BeEF by Michele Orru, Linux Bootkits by Vipin Kumar, Thread Injection in Linux by Aseem etc.
.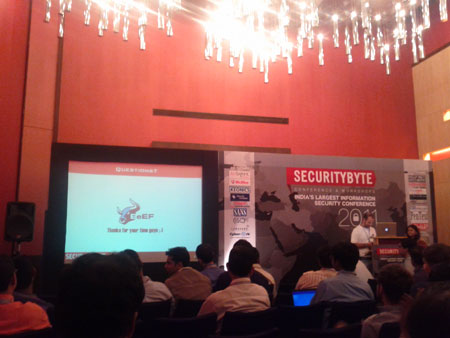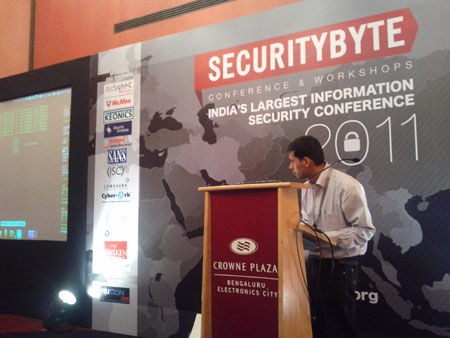 .
There were other events such as Web War IV and Wireless CTF happening parallely in the Hacker's lounge mainly occupied with young hackers.
.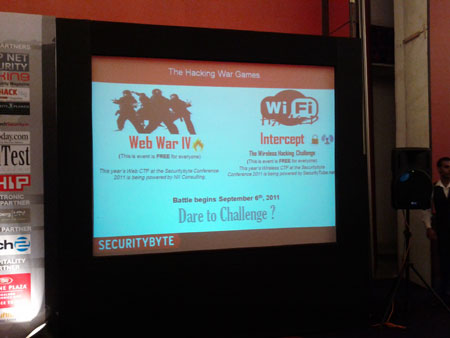 .
Apart from speaker tracks & hacking games we also enjoyed meeting some of the elite folks from security community mainly Vivek from SecurityTube, Rohit/Varun/Abhijeet from ClubHack, Aseem/Murtuza from NullCon, RaviRaj from DeadPixel, Rahul from G4H etc
.
Update on 2nd Day : 7th Sep 2011
.
On the 2nd day we had witnessed some of the great talks mainly by Vivek from SecurityTube, LavaKumar, George etc. Vivek talked about hosted wireless networks and their potential misuse by worms and botnets in stealth attacks. Lavakumar demonstrated his upcoming web penetration testing framework – IronWASP to be released by the end of this month.  George showed us the creation of exploit for Microsoft Word RTF vulnerability.
.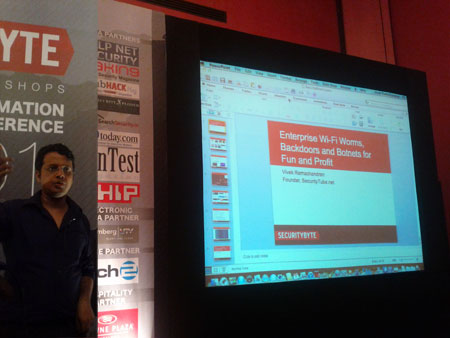 .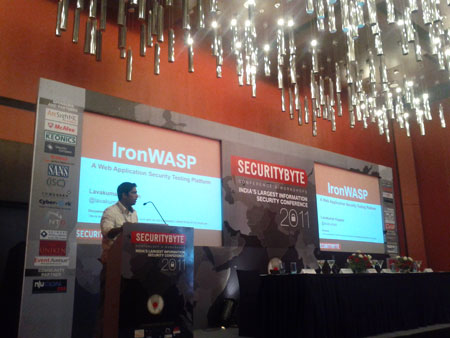 .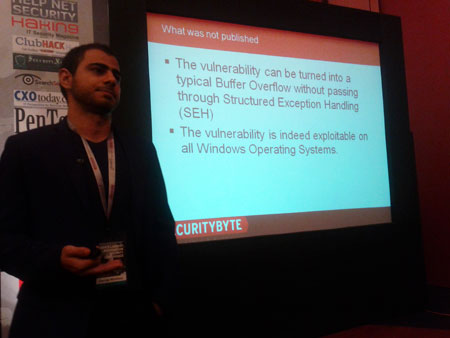 .
.
SecurityXploded is official media partner of Securitybyte 2011 and will bring out the latest news from the event !
For more details check out Securitybyte 2011