Web Directory Buster is free tool to remotely discover the hidden files or folders on any website. This tool will greatly help the Pen Testers to find out any hidden juicy files containing passwords or other important information. Even website owners can use it to remove any such important files before attackers find them.
.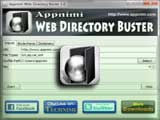 .
Coupled with Dictionary and Brute-force based attack, this program guarantees the discovery of most complicated filenames. Dictionary method helps in finding out common files where as brute-force method will help you discover random/complex file names. It also allows you to customize the search by choosing file extension types so that you can look for specific files such as text, zip, cfg, xml etc.
.
This is the 11th tool released by JavaAngelo who is leading contributor on SecurityXploded.com.  You can see all his contributions here.
For complete details and download, visit main page of Web Directory Buster