We are excited to announce that, Dhanesh – one of our team member – won the "Web War IV challenge" at Securitybyte 2011.
.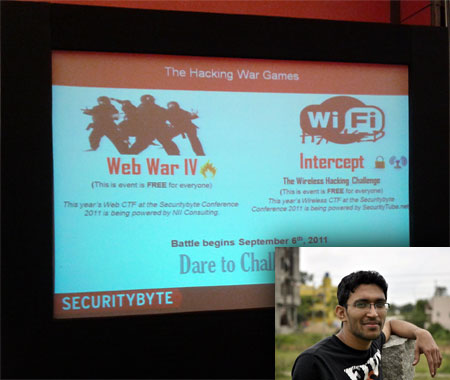 Securitbyte 2011 – 2nd annual international information security conference kick started in Bangalore on 6th Sept. As part of the conference, there were several hacker events such as Web War IV and Wireless CTF being held parallely.  Lot of young hackers were busy for 2 days to break the barriers and get to the top.
.
Finally by the 2nd day Dhanesh managed to get hold of all the keys to win the Web War IV and walk away with prize – Apple iPod Touch.
.
Many congratulations to Dhanesh on this achievement and we are proud to have him at SecurityXploded.
.
For more details on Securitybyte 2011 with exclusive pictures check out our post.