c0c0n is an International Security and Hacking Conference conducted as part of the International Information Security Day. The Information Security Research Association along with Matriux Security Community is spearheading this global event on 7th & 8th Oct 2011.
.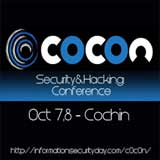 .
c0c0n is aimed at providing a platform to discuss, showcase, educate, understand and spread awareness on the latest trends in information, cyber and hi-tech crimes. It also aims to provide a hand-shaking platform for various corporate, government organizations including the various investigation agencies, academia, research organizations and other industry leaders and players for better co-ordination in making the cyber world a better and safe place to be.
.
Here are the more facts about c0c0n 2011
Conference Dates: 7th and 8th Oct 2011

CFP Opens: 20th July 2011

CFP Closing Date: 14th Aug 2011

Speakers list online: 31st Aug 2011

Location – Cochin (Kochi), India
.
Kochi(colonical name Cochin) is a vibrant city situated on the south-west coast of the Indian peninsula in the breathtakingly scenic and prosperous state of Kerala, hailed as God's own country. Its strategic importance over the centuries is underlined by the sobriquet Queen of the Arabian Sea.
.
Call for papers is already open. You can submit your research work on wide of variety of security topics for rare opportunity to get yourself lost in amazing serene of this place.
.
We are proud to be associated with c0c0n 2011 as a official media partner and we will bring forth the latest happenings about this event as it unfolds.