Meebo Password Decryptor is the FREE software to instantly recover all the messenger account passwords stored by Meebo Notifier. Meebo Notifier is thin desktop client from Meebo which allows the user to keep track of notifications on any of the messenger service from their system.
.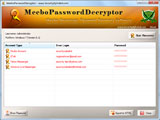 .
Meebo Password Decryptor helps in recovering all these messenger account passwords previously stored by Meebo Notifier. Current version supports recovery of following messenger accounts,
Meebo Account
AIM
Yahoo Messenger
Windows Live
GTalk
ICQ
Jabber
Myspace
Special thanks to Silent Dream & Yogesh Khatri for their suggestions & research work on decryption routine.
For more interesting details & free download visit  –  Meebo Password Decryptor