FlashfxpPasswordDecryptor is the FREE software to instantly recover FTP login passwords stored by FlashFXP – one of the emerging FTP clients.
.
FlashFXP stores the password for all the configured FTP sessions in the file called "sites.dat" at following location "C:\ProgramData\FlashFXP\4\Sites.dat" on vista/win7 or "C:\Documents and Settings\All Users\Application Data\FlashFXP\4\Sites.dat" on Windows XP. Passwords are encrypted with XOR based encoding mechanism using the magic string "yA36zA48dEhfrvghGRg57h5UlDv3".
.
FlashfxpPasswordDecryptor makes it easy to quickly scan & decrypt all these encrypted FTP login passwords. You can also use it to recover the passwords from remote systems by manually feeding the "sites.dat" file location after copying it to local system.
.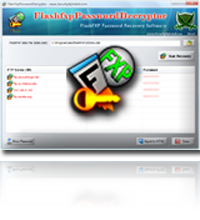 FlashfxpPasswordDecryptor supports both older (version 3.x) as well as latest version v4.0 of FlashFXP.  It presents both GUI as well as command line interface which will be useful for penetration testers & Forensic investigators.
.
For more details and download check out FlashfxpPasswordDecryptor