Here comes our new SecurityPhresh Beta edition.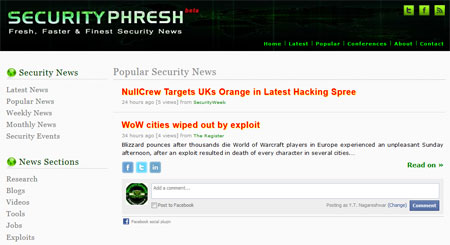 Since last couple of months we have been actively working on it.  Here are some of the highlights,


Redesigned Back-end Engine
At the forefront was the fully automated back-end engine which was completely redesigned from scratch and Amit did very fine job in bringing it up in short time.


Fresh News
New engine updates the news every minute bringing you fresh security & hacking news always.
Interactive
One of our main goal was to make it more interactive yet keep it simpler. Facebook Comment integration serves exactly that purpose. Now you can express your opinions on every news you see and you friends can respond to your views. And you don't need another login 🙂
Sharing
Now you can quickly share your favorite news with your friends on Facebook, Twitter & Linkedin with just one click.
Better Display
Improved news interface makes it easy for you to quickly grasp the headlines and hot news. As always you can catch weekly, monthly news after you come back from honeymoon 🙂
There's still lot more on the plate and you will see gradual changes in the coming days.
Now we would like to hear from you. So take a look http://beta.securityphresh.com