Since the release of FireMaster – First ever tool to recover Firefox Master Password – we have got number of requests to create GUI based version. These requests mainly came from users who were finding it difficult to use console based FireMaster with so many options.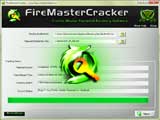 Today after 5 years,  we are glad to launch FireMasterCracker – GUI based version of FireMaster which is not only easy to use but quicker too. It support only one Dictionary Crack method unlike brute-force, pattern, hybrid crack etc supported by FireMaster.
However you can use tools like Crunch, Cupp to generate brute-force based or any custom password list file and then use it with FireMasterCracker.


It is successfully tested with latest version of Firefox v13.0 and works on wide range of platforms starting from Windows XP to Windows 8.  For Linux/MAC systems, you can copy the Firefox profile folder to windows system and then use FireMasterCracker to crack the Master Password.


Now check it out yourself – FireMasterCracker