SpyBHORemover is the advanced tool to explore and remove Malicious BHO's from your system.
.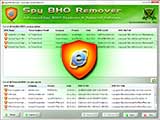 .
BHO stands for 'Browser Helper Objects' which are plugins written for 'Internet Explorer' to enhance its capabilities. Often this feature is being misused by many spyware programs to monitor user's browsing habits and to steal the users credentials silently. Also some of the BHO's slow down the system considerably.
SpyBHORemover helps in quick identification and removal of such spy BHO's present in the system.
.
Here are some of the major features
Advanced Threat Analysis

Color based Threat representation

Backup & Restore mechanism

One Click Enable/Disable option

Online Threat Verification using VirusTotal/ThreatExpert

HTML based BHO Scan Report
For more details visit SpyBHORemover