Facebook Password Decryptor – one of our most popular software – has today crossed 700,000 downloads. First released in Nov 2010, it has reached this milestone in short span of 14 months with an average of 50,000 downloads per month.
.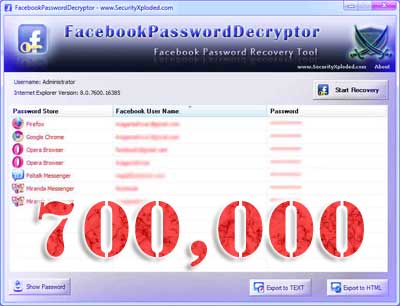 .
Facebook Password Decryptor is the FREE software to instantly recover stored Facebook passwords from popular web Browsers and Messengers including IE, Firefox, Chrome, Safari, Opera, Paltalk, Miranda etc.
.
It is closely followed by few of other softwares such as GooglePasswordDecryptor and FirePasswordViewer.
Here are the top 5 tools.
FacebookPasswordDecryptor    v1.6 [700369 downloads]

GooglePasswordDecryptor    v3.5 [204456]

FirePasswordViewer    v3.0    [189335]

SXPasswordSuite    v4.5    [160745]

ChromePasswordDecryptor    v3.5 [124550]
.
At this milestone, we would like to thank all our users and well wishers for their continued support on empowering us to do more!
.
Now check out, Facebook Password Decryptor