Password Unlocker is a All-in-one free tool to recover password of different type of protected files. It supports password recovery of files including ZIP, RAR, PDF, XLS, XLSX etc.
.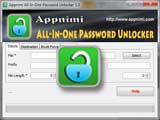 .
It supports both Dictionary as well as Brute-force password recovery techniques allowing user to recover easy to complex passwords. It works on wide range of platforms starting from Windows 98 to latest operating system, Windows 7.
.
Password Unlocker is 12th software released by 'JavaAngelo' – leading contributor on SecurityXploded, you can see all his work here.
.
For more details and download visit home page of Password Unlocker