The 9th annual security conference of HITBSecConf is set to stage in Malaysia from 10th to 13th October. The final list of speakers is out now and some of the impressive folks from the security community will be speaking at this exciting event.
.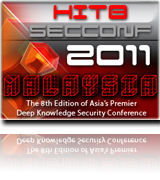 .
As always the first two days will be dedicated to hands on technical training sessions followed by a 2-day quad track conference! This years event will also feature a brand new attack-only Capture The Flag – Tower of Hackf00 Madness, an updated lock picking village set up and run by members from TOOOL US (now includes impressioning!), an industry exhibition and technology showcase and last but not least the HITB Labs and SIGINT sessions.
.
Two days 'Quad Track Conference' will be sparked by the Keynote speakers Kenneth Geers (PhD, CISSP, is the U.S. Naval Criminal Investigative Service (NCIS) Cyber Subject Matter Expert) and Jennifer Granick (she is an attorney at Zwillinger Genetski LLP) respectively.
.
Here are the impressive line up of 'Tech Trainings' by leading industry experts
TECH TRAINING 1 – THE EXPLOIT LABORATORY: 5.0

TECH TRAINING 2 – HUNTING WEB ATTACKERS

TECH TRAINING 3 – ADVANCED LINUX EXPLOITATION METHODS

TECH TRAINING 4 – WEB HACKING 2.0
.
Highlights and other events,
Quad Track Conference

HITB Labs

HITB SIGINT

Capture The Flag

Hacking with LEGO Mindstorms

Technology Showcase

Lock Picking Village by TOOOL USA
.
SecurityXploded is official media partner of HITBSecConf Maylaysia 2011 and will bring out the sparkling news from the show !
.
For complete details and registrations (limited seats) please visit the official site of HITBSecConf Malaysia