Here comes the golden moment for us, as we launch our 50th password recovery tool – Oracle Password Auditor – FREE Oracle password recovery and auditing software.
.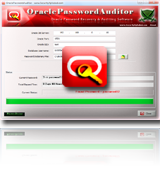 .
After the release of  Mysql Password Auditor, this is our next tool for database password recovery dedicated to Oracle – one of the popular and powerful database software.OraclePasswordAuditor makes it easy to recover any lost password of Oracle database and also help in pen testers to discover any weak password configurations in corporate environment.
.
Main features of OraclePasswordAuditor
Free and easy to use software to quickly Recover/Audit Oracle Password.

Very useful for IT administrators & Penetration Testers

Dictionary based Password Recovery method

Includes dictionary file having popular list of default Oracle passwords

Automatically detects Account Lockout, Invalid SID etc and terminates the operation.
For more details and download visit home page of OraclePasswordAuditor