Here is the quick update on this month's Local Security meet (SX/Null/G4H/owasp) and  our advanced malware analysis session on Reversing Automation
This is part of our FREE 'Advanced Malware Analysis Training' series started from Dec 2012.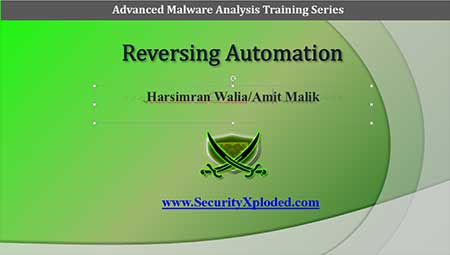 Presentation was from Harsimran but due to last minute commitments, Amit has to deliver it.  In this descriptive session, Amit explained various automation techniques covering pefile, pydbg, IDAPython scripts.  He also showed demo of ExeScan and Malpimp tools.


This presentation is available at our Security Presentations page. Demo Videos for all the sessions are available on Security Training Videos page.
We extend special thanks to Harsimran/Amit Malik for this special session in a hot summer !
Stay tuned to our next and yet another exciting training session !