IE Password Decryptor is the FREE software to quickly recover the stored passwords from all versions of Internet Explorer.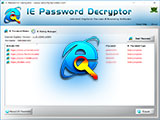 Main Features
Recover passwords from all versions of IE from 4.0 to latest version 9.0

One tool with both GUI and Command-line interface.

Reset the 'Content Advisor Password' of Internet Explorer

Save password recovery report  to HTML/XML/Text file.

Includes 'IE History Manager' to view/add/remove stored website URLs

Works on wider range of platforms starting from Windows XP to Windows 7.


Current version v3.5 XML based report generation in GUI/Command-line mode, Improved HTML reports for both password & history section.


It is one of our top ten tools and has crossed 90,000 direct downloads so far.
For more details visit – IE Password Decryptor