nullcon 2012 is set for its 3rd International Security Conference on 15th to 18th Feb 2012 in Goa, India.
.

.
nullcon is Asia's first ever event organized by official security community and its members. This time it is to take on wide variant of audiences by featuring different tracks starting from technical, research to business tracks including its signature track 'Desi Jugaad' presented by eminent personalities from security field.
.
Update [Jan 1, 2012]: Dr. Kamlesh Bajaj, CEO – DSCI will be delivering Keynote @ nullcon Goa, 15 – 18 Feb 2012 !!!
.
In addition to sparking speaker tracks, it also features following industry level trainings
Xtreme Web Hacking

Advanced Wi-fi Security

CISSP Information Security Bootcamp
.
Conference Facts & Dates
CFP Opening Date – 18th Aug 2011

CFP Closing Date –  30th Nov 2011

Conference Date  – 15th-18th Feb 2012

Location – Goa, India
.
There are also other hacker events such as HackIM, Battle Underground, JailBreak for audience to engage in healthy competition as the event goes on.Happening at Goa, India's wildest beach party destination, this event will leave you completely exhausted with tech doze followed by null party.
.
To add feather to the cap, nullcon 2012 brings in most notable personality,  'Charlie Miller' – hacker who hit the headlines lately for publishing iPhone exploit and then getting sacked by Apple's IOS division.
.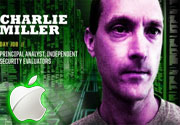 .
Registrations are already open with attractive early bird discounts, so hurry up and book your seats now  – http://nullcon.net/
.
SecurityXploded is official media partner of nullcon 2012 and will bring out the latest news from the scene as it happens !!!