We are excited to announce our much awaited software – AIM Password Decryptor – FREE tool to instantly recover the login passwords stored by AIM (AOL Instant Messenger), one of the most popular messenger.
.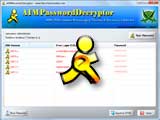 .
AIM stores all the remembered user's login passwords in the registry or local file 'aimx.bin' (based on version) . It uses Blowfish algorithm with 56 byte magic key to encrypt the password and then stores it using Base64 encoding mechanism. We will soon write detailed research article on the same.
.
AIM Password Decryptor helps you to quickly recover all such stored passwords by AIM. Currently it is the only software which allows you to recover the passwords from all versions of AIM starting from 6.x to latest version 7.5.
.
Check it out yourself – AIM Password Decryptor