Foxmail Password Decryptor is the FREE software to instantly recover mail account passwords from Foxmail – one of the emerging email client.
.
Foxmail stores all the configured mail account passwords in registry in an encrypted format. This software helps in automatically discovering & recovering all such stored passwords.
.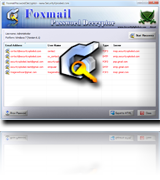 For each recovered mail account, it will show email address, username, password, account type (POP3/SMTP) and server information. You can recover the passwords using GUI interface as well as Command-line version – both integrated in single tool. This makes it useful tool for Penetration Testers and Forensic investigators.
.
Special thanks to one of our fans – 'Girish Nayak' for suggesting this tool. If you are looking for specific security or password recovery tools then let us know !
.
For more details and download, kindly visit Foxmail Password Decryptor