IncrediMail Password Decryptor is the FREE software to instantly recover mail account passwords from IncrediMail – a popular email client.
.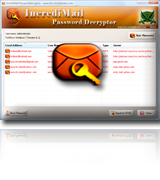 IncrediMail stores all the configured mail account passwords in registry in an encrypted format at following location.
HKEY_CURRENT_USER\Software\IncrediMail\Identities\<GUID>\Accounts\<GUID>
.
Usernames are stored in clear text, however passwords are encrypted using proprietary encoding algorithm. Passwords for each type (POP3/SMTP) are stored in the registry values "PopPassword" & "SMTPPassword".
.
IncrediMail Password Decryptor automatically traverses through each of these mail accounts stored in the registry and recover them instantly. For each recovered mail account, it will show email address, username, password, account type (POP3/SMTP) and server information.
.
For more details and download, check out IncrediMail Password Decryptor