FtpPasswordDecryptor is the FREE software to instantly recover FTP passwords from the popular FTP clients. It scans the entire system looking for these FTP clients and then automatically decrypts the password from their respective FTP account file.
.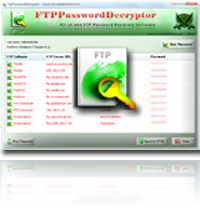 Compared to our another tool FTPPasswordSniffer, this tool can recover the passwords INSTANTLY without the need for sniffing and recover passwords for secure FTP sessions as well.
.
Current version supports recovery of FTP passwords from following applications.
FileZilla
SmartFTP
FlashFXP
FTPCommander
Dreamweaver
.
If you are looking for password recovery tool for your favorite software & can't find one then pass it on to us and you will possibly have one !
Time being enjoy our another FREE software – FtpPasswordDecryptor