DreamweaverPasswordDecryptor is the FREE software to instantly recover web server passwords stored by Adobe Dreamweaver product. Dreamweaver is the industry-leading web authoring and editing software that provides capabilities for creating websites.
.
To make web integration easier, Dreamweaver stores web server details including login passwords for services such as FTP, Webdav in a secure encrypted format. DreamweaverPasswordDecryptor helps in quickly recovering all these encrypted web server passwords from its local store. It supports latest version of Dreamweaver including CS4 & CS5 editions.
.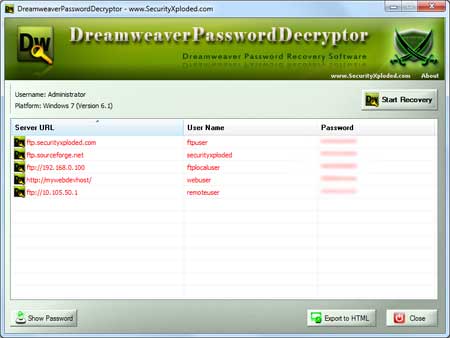 Special thanks to "Silent Dream" for not only suggesting to write this tool but also pointing us at password storage part of Dreamweaver. Else you would not have seen this page !
For more details visit main page of DreamweaverPasswordDecryptor !