JDownloaderPasswordDecryptor is the FREE software to instantly recover premium account passwords from JDownloader.
.
JDownloader is popular downloader software that simplifies and automates downloading file from many shareware and premium download sites such as Rapidshare.com, Megaupload etc. JDownloaderPasswordDecryptor helps in quickly recovering all these stored premium account passwords from JDownloder database.
.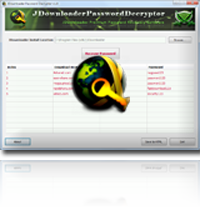 Penetration Testers can also use it to recover JDownloader premium account passwords. You can copy the JDownloader database from compromised system to local system and then use it to recover all the premium passwords at your ease. Also Forensic Investigators can find it handy to recover all the premium accounts from the victim system and then trace all the downloads from that account.
,
Special Thanks to my bro – Raghuveer for doing all the research work and writing this software in 24 hours of record time on a short note.  It is the result of his incredible work !
After the first one to release Firefox password tools – FirePassword & FireMaster,  we are again first one to release the JDownloader Password Recovery Tool leaving behind the commercial ones.
.
For more details & download, visit JDownloaderPasswordDecryptor !