DirectoryScanner is the FREE Directory Server fingerprinting tool. It can help you to remotely detect the type of Directory servers (such as Microsoft Active Directory, Novell eDirectory etc) running on the local network as well as Internet. It is GUI version of RemoteDirDetector– a perl based console tool to detect type of directory servers.
.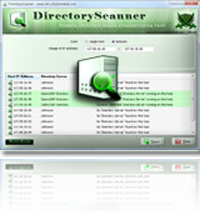 Also it can be used in penetration testing while evaluating client environments where multiple Directory servers are deployed. Directory servers are typically used to store crucial data in an organization including employee authentication information. Often getting hold of poorly configured Directory server can be a gold mine for the pentester.
.
It can detect following popular Directory Servers
Novell eDirectory

Microsoft Active Directory

Open LDAP Directory

Sun One Directory

Netscape Directory

IBM Lotus Domino

Oracle Directory
.
We hope that DirectoryScanner will help the admins as well as pentesters to remotely keep tab on directory servers on the network.
.
For more details and download visit the home page of DirectoryScanner