If you have got that hunger, drive, passion for the Computer Security and wanna make it big in this field much faster than others, here is the greater opportunity for you. For the first time,  SecurityXploded.com opens up to those who are still crawling in the dark and struggling to get the light of the day, now you can showcase your work on SecurityXploded.com so as to reach not only wider but the right audience.
.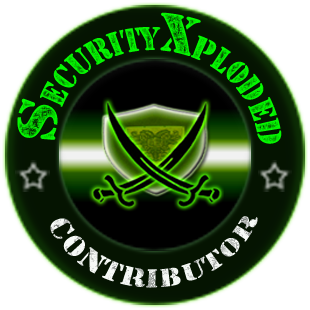 .
SecurityXploded.com was initially started as knowledge sharing initiative to share my work in the Security field with the community – To give back more than what I have got from the community. As the time passed, it has grown bigger and bigger as I continue to publish more articles and tools. Today it has not only published numerous cutting edge research articles but also 40+ FREE security tools with some of them crossing 100k download mark. Most of our tools have received 5 star/editor pick award from leading download sites on the Internet.
.
But it took a long way to get this light of the day as the journey wasn't easy with millions of sites around the net and daily new ones emerging. So I have finally decided to present a platform for the passionate individuals who are still in their beginning days to help them spread  their work with the wider security community in faster & better way.
.
.

Here are more details and answers to your various questions.
.
Why on SecurityXploded.com?
SecurityXploded.com is one of the fastest growing security portal with its research work and specialized FREE security tools. Since its start in early 2007, it has reached greater heights day by day with 50K unique visitors worldwide and 130K page views per month (as per the statistics on 15th Dec 2010).
Our

40+ Free Security Tools

are all published on leading download sites on the Internet and have been rewarded with top awards. That means greater chance for your little tool to be showcased on top Download sites.
Directly benefit from larger

Alliance & Network Partners

associated with SecurityXploded.com.
Complete recognition for your work, let it be small research article or tool so that your work will be easily recognized & seen by everyone from the security field.
All your security work at one place helps you to easily attract potential employer in security domain or highlight all your publications in the resume and seek

personal recommendation

.
Greater chance to improve your network & social links with other like minded souls under one roof.
.
What you can Submit ?
You can submit any

research work

,

general article

&

tool

as long as it lies in the Security domain.
You can also submit videos which are related to tools/articles published on our site. For general security videos, we recommend you to submit it to http://SecurityTube.net
You can submit your stuff even if it is already published elsewhere on the net
Don't have to very technical, it can go from beginner to advanced.
.
How to Submit ?
For article submission, send us the article link if it is already published or send it in text file and images if any in the zip file in the order they appear in the article.
For tool submission, send us the tool page link if it is already published or send the content in text file,  direct link to download file (for mirror on our site) and images in zip file.
For video submission, send the link of your Youtube video link.
If you are submitting first time then send us your cool pic, short bio and personal website/blog link.
To submit, you can directly email us with all the contents to contact at SecurityXploded dot com
.
Few Points to Ponder…
You can publish the work with your original name or pseudo handle or decide to remain anonymous.
You can publish your work even though you have already published it on other websites provided it does not violate rules of those sites.
We do not publish copyrighted or copy cat stuff on our site. We respect original work however small it may be. Any such violation will not be entertained and will lead to permanent ban.
All submitted articles may be edited for clarify and will be made to align to site's theme without altering original content.
We are not here to promote your website/blog but your Security work alone, though we put up your website/blog link in your profile so that people can read more about you.
Rights of approval for any author or submitted content is reserved with us
There is no limit on how many you can submit,

Your Potential Our Presentation !
.
If you have any more questions/concerns surrounding this, feel free to check with us. Once you have submitted your stuff your profile will be showcased in our 'Contributing Authors' section citing all your submissions.
.
With the commitment from our side to provide the lightening platform to showcase your work,  we welcome you to make best use of this Opportunity !